The National Spelling Bee which is mostly joined by participants from the US, Canada, Mexico, New Zealand, Ghana and Bahamas who compete to be the spelling bee champion for 2012. It is also opened to other countries outside the United States but the participants must be strictly regional spelling bee winners in their areas.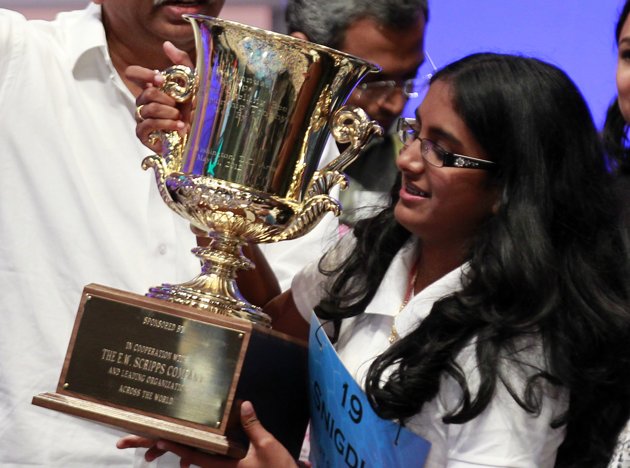 2012 Scripps  National Spelling Bee winner – Snigdha Nandipati
Image Credit: AP/Alex Brandon
For this year, 2012, Snigdha Nandipati of San Diego were able to take home the trophy of being the Scripps National Spelling Bee Champion of the year. The 14-year old was able to spell the word "guetapens" which made her the champion in this competition. It is a French word meaning ambush or (figuratively) trap.
2012 Scripps National Spelling Bee winner Nandipati was awarded a $30,000 (£19,500) cash prize, a $2,500 (£1,600) US savings bond and a $5,000 (£3,200) scholarship and other prizes.
Nandipati said that she knew the word because she already saw it. As we all know that the term Guet Apens was a perfume composed as a limited Christmas edition by nose Mathilde Laurent 10 years ago (1999) when Guerlain had its first inflow of funds from LVMH's initial investment but was finally renamed Attrape-Coeur. It could be that this word is already known and might have been seen but not acknowledge by kids.
2012 Scripps National Spelling Bee: Snigdha Nandipati wins the title with 'guetapens'
Video Credit: youtube/mikebascombe
Comments
comments
Tags: 2012 Scripps National Spelling Bee, 2012 Scripps National Spelling Bee winner, featured, National Spelling Bee, National Spelling Bee Winner, Scripps National Spelling Bee, Snigdha Nandipati