A 9,000-year-old mask is set to be auctioned off at Christie's June 8. The 9,000-year-old limestone mask will be the oldest art piece to ever grace the famed auction house, reports Yahoo.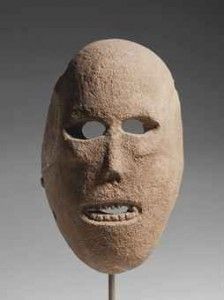 The 9,000 year-old mask
Image Credit: Christie's
Below is the description of 9,000 year-old mask that can be found at Christie's official website
A JUDEAN DESERT LIMESTONE MASK PRE-POTTERY NEOLITHIC B, CIRCA 7TH MILLENNIUM B.C.

Fashioned to resemble a human skull, oval in form with thick walls, the reverse concave, the cut-out eyes with narrow ridges extending up from their outer corners over the temples, raised cheekbones below with a ridge extending back, the slender triangular nose with two grooves for the nostrils, the lipless oval mouth open, revealing teeth, with five biconical drill holes along the perimeter 9 in. (22.8 cm.) long
It's estimated that the 9,000-year-old mask could fetch upwards of $600,000. The mask is Neolithic and is meant to represent a human skull. It was found in the Judean dessert.
Molly Morse Limmer, head of Christie's Antiquities department in New York stated, "Only very few of these masks are known. All were found in the Judean desert, all were carved of limestone, and all represent the human skull.
Comments
comments
Tags: 9000-year-old limestone mask, 9000-year-old mask, Christie's, featured, Molly Morse Limmer