Despite wowing the judges on Wednesday, "Idol" fans voted to send Jessica Sanchez home. The "American Idol" results were surprising this week, but shouldn't have been.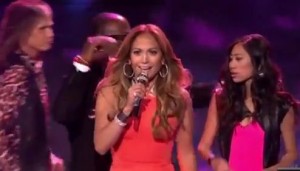 Jessica Sanchez, a favorite of the judges all season, received the fewest number of votes. Of course, she wasn't actually eliminated, a decision that became somewhat less dramatic when Steven Tyler took a look at the bottom three — Jessica, Joshua Ledet and Elise Testone, and told Ryan Seacrest that the judges would be using their one save of the season. Still, Jessica didn't have to sing her exit song for more than a few seconds before Jennifer Lopez led the judges on stage to make it official.
At this point, everyone knows that Jessica has a big voice. She doesn't need to go for the home run every week to prove it. But she does have to do a better job at letting it work in songs that the audience actually wants her to sing.
American Idol 2012 Top 7 Elimination Result: Judges rush the stage to save Jessica Sanchez 
Video Credit: YouTube/Fox
Comments
comments
Tags: American Idol 2012, American Idol 2012 Top 7, American Idol 2012 Top 7 finalist, Colton Dixon, Elise Testone, Hollie Cavanagh, Jazmine Sullivan, Jessica Sanchez saved, Jessica Sanchez sings "Stuttering", Jimmy Iovine, Ryan Seacrest, Skylar Laine, Songs from this Decade