97-year-old Ann Colagiovanni receives high school diploma
Who would ever forget the film entitled "Patch Adams", a 1998 comedy drama film starred by Robin Williams. This film is based on the true to life story of Dr. Hunter "Patch" Adams and portrays Adams as enrolling in medical school very late in his life or we could say that he graduated at the of 67. This record is now broken by a 97 year old Ann Colagiovanni, who now receives her high school diploma.
It is said that Colagiovanni need to quit schooling in 1930s to work in his father's meat market. "It was the Depression years and working was more important than getting your education," said Ann's daughter, Emilia Colagiovanni Vinci. "She did what her father wanted her to do, even though she wanted to graduate. She put her father, her family, before herself."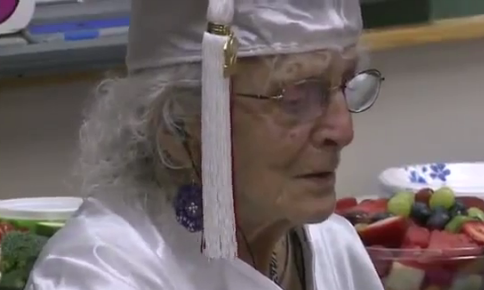 Ann Colagiovanni 97 Receives High School Diploma
Screenshot: AP|Video
Ann was not able to returned to school because she stopped working from her father's market in 1960s, and got married, had two daughters and with 11 grand children. "When I told her she was getting a diploma, she sobbed as if a pain had been relieved from her heart," Vinci said. "I never knew what it meant to her. She wanted this."
According to the Shaker Heights Superintended Mark Freeman that it is an honor to award Colagiovanni her diploma, but the gist is that only her diploma is dated June 1934, the year where should would have graduated. Further, her grandson Thomas Vinci is also graduating in Shaker Heights.
Comments
comments
Tags: 97-year-old gets high school diploma, 97-Year-Old Graduate, 97-Year-Old High School Graduate, 97-year-old received high school diploma, Ann Colagiovanni, Ann Colagiovanni Graduate, Ann Colagiovanni High School, Ann Colagiovanni Ohio Depression, featured