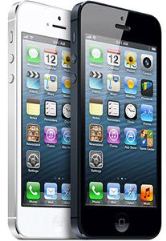 The Walmart Stores Inc. is giving big discount on Apple iPhone 5 smartphone in thousands of its outlets. The 16 GB Apple iPhone 5 is sold for only $127, when it has the original price of $189.97. Furthermore, this price is valid and have a two-year contract from its wireless carriers such as Verizon, Sprint and AT&T. This offer will last for 30 days in more or less 3,000 Wal-Mart stores, however, they are not for advertisement, it will not be identified immediately and not available online.
Since Apple is maintaining its high-priced, premium gadgets for many years and has strictly enforced its prices with retailers and other distributors, a Wal-Mart spokeswoman said on Friday that the discounts were arranged with Apple. "We worked together with them on this," the spokeswoman, Sarah Spencer, said. "They are a great partner."
They are also selling the previous version which is 16 GB iPhone 4S for $47, versus an original price of $89.97.
Comments
comments
Tags: iPhone 4S big discount, iPhone 5 big discount, iPhone 5 discount, Wal-Mart, Wal-Mart iPhone 5 big discount, Wal-Mart iPhone 5 Discount, Wal-Mart Selling iPhone 5, Wal-Mart Stores