It was not easy to surf for you have to deal with water and water sport where you need to ride on the forward face of a wave needs a lot of skills, practice and talent. This represents a diverse ability based on riding the waves. Some people practice surfing as a recreational activity while others make it the central focus of their lives. This sport is now a multi-billion dollar industry especially in clothing and fashion markets.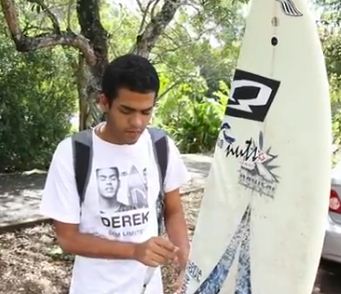 Derek Rabelo, the Blind Pipeline Surfer from Brazil
But doing this sport with disability takes a much more determination and skills. And that deadly combination possessed by a Brazilian surfer Derek Rabelo is much more amazing than the best surfer in perfect physical condition. He surf and he's blind!!
Medical history of Rabelo shows that he lost his ability to see due to glaucoma during his earliest childhood years, but this does not hinder him to stop being an outdoor sport fanatic, water lover so he engaged himself to swimming, and surfing and even other sport like skating.
According to him: "I don't feel different from others. I feel normal, and I don't feel limited at all." Surfing is one of his favorite and because it runs in the family blood, his father and uncles were surfer also. Two and a half years ago, he started his schooling on surfing in Rio de Janeiro. He uses his other senses to determine the size and impact of the wave. His mother, Lia Nascimento, said, "He has courage that I sometimes lack, to do things."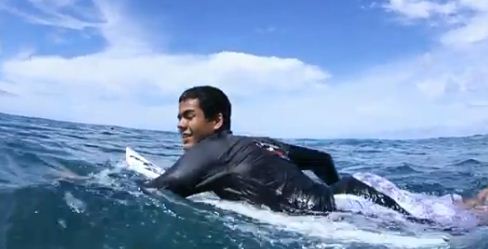 Derek Rabelo, Blind surfer from Brazil in action
He even successfully rides the pipeline. This is where you will find the heaviest waves a surfer could ever ride. Indo Surf Life tweeted, "Next time we complain about life being unfair, we should remember this kid." Not sure we could ever forget Rabelo or his courage.
Watch the video "Derek Rabelo the Blind Surfer";
Video Credit: YouTube/Bryan Jennings

Video Credit: YouTube/Bruno Lemos
Comments
comments
Tags: Blind Surfer, Blind surfer Derek Rabelo, Blind surfer from Brazil, Blind Surfer video, Brazil, Brazilian surfer Derek Rabelo, Derek Rabelo Blind surfer from Brazil, Derek Rabelo the blind surfer