Kingston Digital Inc. unveiled their latest 1TB USB flash drive at the International Consumer Electronics Show (CES) 2013 in Las Vegas. This has the capacity of 1 terabyte and named as the DataTraveler®HyperX®Predator 3.0 and is one of the world's largest-capacity USB 3.0. This means that a large digital world capacity can fit inside a small flash drive and eventually fit into our very own pocket.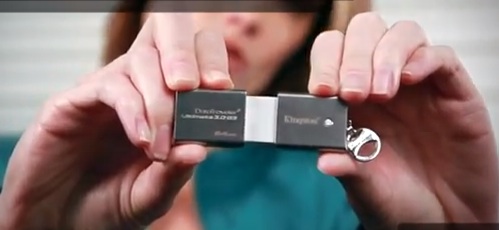 Latest flash drive offered by Kingston is a 512 GB flash drive and the occurrence of this 1TB USB flash drive DataTraveler HyperX Predator 3.0 can make a worldwide exposure to store large capacity data in a flash drive. This is expected to be released later in the first quarter.
1TB flash drive dimensions are 2.84″ x 1.06″ x 0.82″ (72mm x 26.94mm x 21mm) excluding the attached key ring, and will be 3.49″ long (88.53mm) with the key ring on it. It also has a shock-resistant zinc alloy metal casing.
Andrew Ewing, Flash memory business manager, Kingston, said:
"Our new DataTraveler HyperX Predator 3.0 allows users to store their entire digital world on a portable USB 3.0 Flash drive … The large capacity and fast USB 3.0 transfer speeds allow users to save time as they can access, edit and transfer applications or files such as HD movies directly from the drive without any performance lag."
This flash drive is a compliant with the next-generation USB 3.0 specifications which means that not only is the DataTraveler HyperX Predator 3.0 capable of holding an incredibly amount of data it can also transfer information with relatively quick speeds. Kingston says that the new flash drive will be capable of speeds of up to 240MB/s read and 160MB/s write.
No specific price has been announced by Kingston.
Comments
comments
Tags: 1TB flash drive unveiled, 1TB flashdrive, 1TB USB flash drive DataTraveler HyperX Predator 3.0, CES 2013, DataTraveler HyperX Predator USB, Kingston, most powerful USB Flash drive, world's largest capacity USB