A monkey was on the loose found by shoppers in Ikea store in Canada. Though this is not new hot topic in the city but the funny thing is that the monkey was wearing a pint sized shearling coat. And so this incident has taken the attention of many shoppers, residents and staff of the store.
The staffs lured the monkey into a corner before calling the police whom contacted the city's Animal Service Department that deals with wild life animals. "It was just outside the store, just in a corner area where the monkey had nowhere to go, but it was pretty scared," Staff Sgt. Ed Dzingala said. He also informed the press that the monkey has escaped from a parking area where its owner left his car and his pet.
Aside from the coat, the monkey is also wearing a diaper and that during its escapade it never got inside the store because the officer of Animal Service Department already have the monkey within half an hour. Later, the owner was informed of the incident and was reunited with the pet immediately. Pictures were taken by the shoppers, staff and others who saw the incident and immediately posted them in twitter and facebook accounts.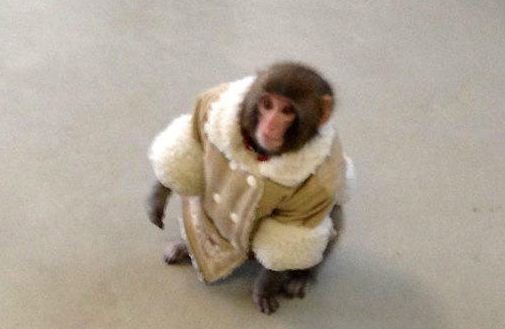 The monkey's owners have been fined $240 for breaking the city's prohibited-animal bylaw said by Mary Lou Leiher from Toronto Animal Services. She said Darwin (name of the monkey) was being fed and cared for while officials tried to find an animal sanctuary for it. There is also a chance that the monkey could be carrying Herpes B and being a resident of the city will put both human beings and animals at risk for health problems. Though during the visitation of agency's personnel to the monkey, they assure that the monkey has been very quiet and it could be that he is stressed due to the commotion that occurs.
Comments
comments
Tags: Baby Monkey Wearing Coat, Baby Monkey Wearing Shearling Coat, ikea, ikea monkey, ikea monkey rehomed, ikea monkey sanctuary, Ikea Store Monkey, IkeaStore Monkey, macaque monkey, monkey in coat, monkey in ikea, monkey in Ikea store, monkey in jacket, Monkey Spotted In IKEA Store, Monkey Wearing Coat