Its not quite a while when the show Programa Silvio Santos made the prank video using a creepy girl with a doll in an elevator. Well here's their new hoax. It involves a coffin, a supposedly dead man, and another elevator ride.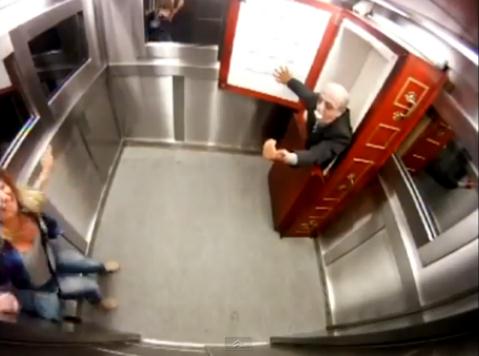 The victim would always be clueless of what the hoax and prank would be. It would be like an ordinary day where they would ride the elevator. Funeral employees would bring in the coffin with supposed to be dead corpse inside and will ask the victim to hold the door of elevator while they go back to get the flowers. Of course, the technicians were informed of the prank and will automatically closed the door even the victim is holding it. And while the elevator thought to jam, the rider will usually get angry and the coffin opens and a body falls out. Mixed emotions of fear being alone with a coffin, shock and scary moment will make them really scream till their throat is in pain.
The video, which was uploaded on Sunday, already has more than 7,000,000 views. The prank is, yet again, not an original creation of the Programa Silvio Santos. Just For Laughs , a television show, pulled an identical prank and uploaded it to YouTube in February. It's hard to say what could be freakier than a fake body falling out of a coffin, but there's a good chance that whatever it is, it will end up on Santos' show. Watch the Elevator Coffin Prank Video.

video credit: youtube/dogproduction
Comments
comments
Tags: coffin elevator prank, Coffin Elevator Prank Video Goes Viral, Coffin In Elevator Prank, creepy elevator prank, Elevator Coffin Prank, elevator coffin prank in Brazil, Elevator Coffin Prank Video, Elevator Prank, elevator prank clip, Programa Silvio Santos, scariest elevator prank