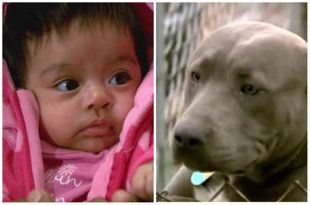 In Indianapolis, a family's dog stopped armed would-be kidnappers from leaving the family's home, preventing the kidnapping attempt  on Tuesday, November 20, 2012.
Police say a man and a woman broke into the home of Nayeli Garzon-Jimenezthrough the back door while her husband was at work. Garzon-Jimenez was on the phone with her husband, Adolfo Angeles-Morales, at the time of the break-in.
The male kidnapper asked for money and gave a warning that he'd take the baby with him if no money would be given. With no money to give, the female kidnnaper grabbed the 3-month-old girl and attempted to flee through the back door.
But there was something else waiting for her at the back door – one of the family's doggies, a pit bull mix. The said family dog didn't let her go through the back door. The woman turned around, threw the baby back at Garzon-Jimenez and fled with the guy.
The mother, who was hit in the head with a gun during the melee, was treated for cuts and bruises at a local hospital, and was released. The baby was unharmed.
Indianapolis police are now searching for the suspects: "a black man around 35 years old, 6-foot-2, heavy set with light skin, a close-cut beard and acne scars" and "a black woman in her mid-20s about 5-foot-10, heavy build with braided hair pulled back in a ponytail" and "two lip piercings and an eyebrow piercing."
They were driving "a 2002-2007 chocolate-brown van with tinted windows and windows that extend down the passenger side."
Comments
comments
Tags: baby hero dog, dog saves baby, dog stop kidnappers, family's dog stopped kidnapper, hero dog saves baby, Hero dog saves baby from kidnapping, hero pit bull, hero pitbull saves baby, Heroic Dog Saves Baby from Kidnappers, pit bull, pit bull mix saves baby, pit bull saves baby, pitbull, pitbull saves baby