According to BBC, Felix Andersson, Jakob Hellberg and Ulrik Bergsland were at Litchfield National Park in Australia when they noticed a crocodile on the rock near the shore.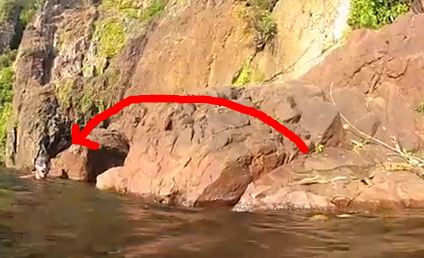 The tourists moved in for a much closer look and was surprised when a crocodile leap from rocks landing on one of them.
According to Andersson:
"We were swimming, testing out our new underwater cameras and we saw the crocodile. We started going closer and I swear that I was hidden by the rock but as the cameraman got closer, I guess it just wanted to get back in the water so it jumped. It landed on my shoulder … I was really shocked. I went straight underwater and swam away. People are saying that we were really stupid for doing that, and after watching the video, I have to agree."
Watch the video of the crocodile leaping at the tourists.
Crocodile leaps at tourists in Australia
Video Credit: YouTube/Ulrik Bergsland
Comments
comments
Tags: crocodile attack, crocodile attacks tourists, crocodile australia, crocodile leaps at tourist, Crocodile swimmer, crocodile video, Crocodile's flying leap at swimmer, Featured Video