A truck carrying at least a dozen cows crashed in the village of Starovelichkovskaya in Krasnodar Region, Russia. The video with the title "Truck full of cows crashed" became an Internet hit with more 500,000 views since it was uploaded by a YouTube user ClaudioPaskuale on December 18, 2012.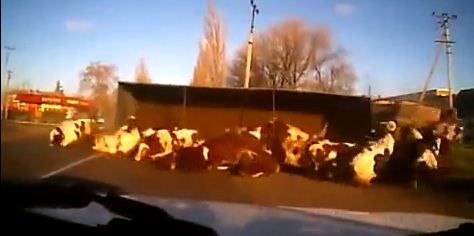 Watch the video below to see how it happened;

"Truck full of cows crashed"
Luckily, the cows and the truck driver survived the incident.
Comments
comments
Tags: amazing video, Featured Video, Krasnodar Region, Russia, Starovelichkovskaya, truck full of cattle crashing, Truck full of cows crashed video, truck full of cows crashes, Truck full of cows crashes and rolls, Unbelievable Video of Cows Surviving Crash