After Hurricane Sandy pounded the eastern seaboard, a shark was photographed by WBTW swimming in the front yard of a flooded home in Brigantine Beach, New Jersey.
WBTW has already captured a number of other remarkable images as a result of the storm, some of which are: streets entirely wiped out by rain in Atlantic City and parts of Brooklyn; reporters being pummeled by wind and rain; CBS News' national correspondent Chip Reid knocked down by a giant rogue wave as he reported on Hurricane Sandy from Ocean City, Maryland; many live electrical wires brought down; and a giant crane in New York dangling 75 feet above the city pavement after it was damaged by high winds from the storm.
But that image of the shark swimming in the front yard turned out to be the most dramatic, proving how serious the storm was. Though The Huffington Post reported that it was downgraded when it hit land, the storm still mustered hurricane-strength winds in New Jersey and caused thousands of canceled flights and create power outages over hundreds of square miles.
Photos of the shark found in front yard as Hurricane Sandy flooded New Jersey.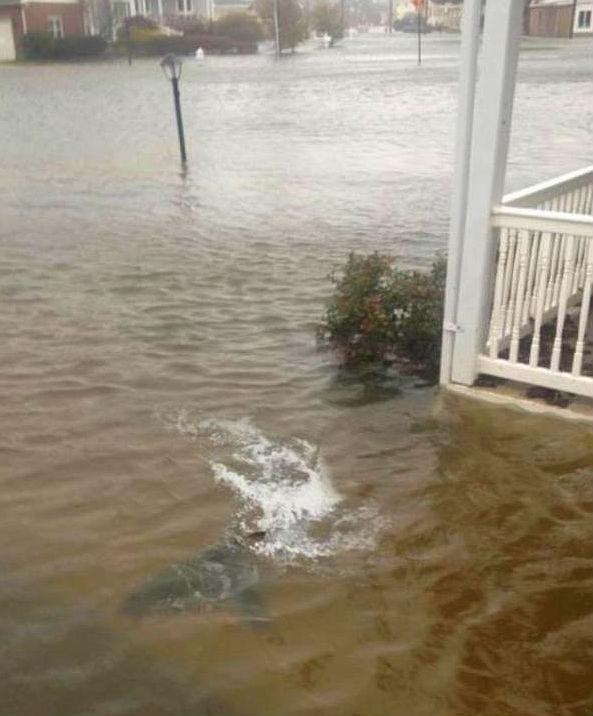 Comments
comments
Tags: Brigantine Beach, Hurricane Sandy, Hurricane Sandy shark, Hurricane Sandy shark in front yard, Hurricane Sandy shark photos, Hurricane Sandy shark picture, Hurricane Sandy USA, New Jersey, shark in flooded yard, shark in front yard