Real-Life Human Barbie Dolls are now becoming internet sensation and the trending topic in different social networking websites like Facebook, Twitter and other photo sharing websites.
They gained online fame for looking exactly like a girl's best doll friend Barbie. In fact, videos about real-life Ukrainian barbie doll, living dolls and real-life anime girl posted on YouTube have been watched over MILLION times. (Real-Life Barbie Doll YouTube Channel: VenusAngelic, dakotakoti, amatue and Anastasiya18ful)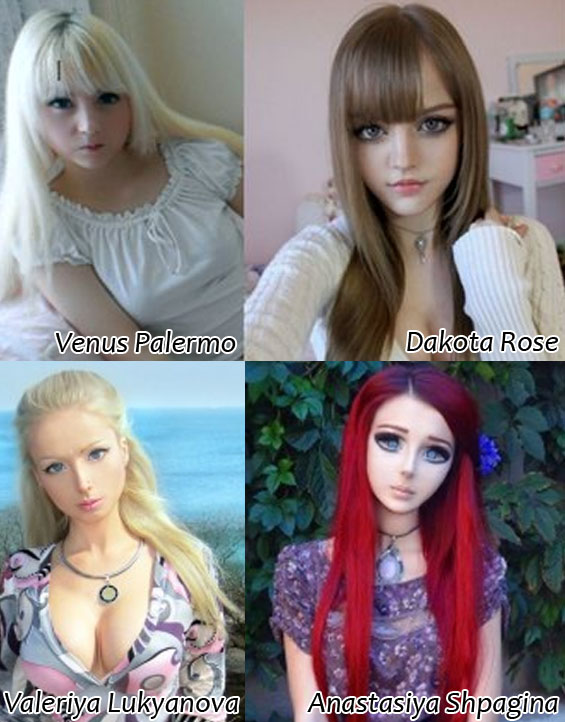 Venus Angelic or Venus Palermo a Living Doll
Dakota Rose  a Living Doll who is very popular across Asia
Valeria Lukyanova also known as the Real-Life Ukrainian Barbie Doll
Anastasiya Shpagina the real-life anime girl from Ukraine
They share the same look of a Barbie doll, from their rose-bud lips, porcelain skin, wide icy-blue eyes, long-straight blonde hair, small waistline and amazing doll-like make-up.
Below are the photos of  the most famous real-life barbie doll.
Venus Palermo  with the screen name "VenusAngelic" posted beauty tutorials on YouTube for fans who want to look like her.
Dakota Rose or KotaKoti has drawn a lot of attention for her resemblance to a barbie doll.
The Real-Life Ukrainian Barbie Doll: Valeria Lukyanova
Anastasiya Shpagina a real-life anime girl from Ukraine.
Photos Credited to: Valeria Lukyanova Facebook and vk account, Anastasiya's Facebook, venusangelic.com and kotakoti.com
Comments
comments
Tags: Anastasiya Shpagina, Dakota Rose, Famous Real-Life Barbie Doll, human barbie doll, Kota Koti, real life human barbie, real-life anime girl, Ukraine girl Anastasiya Shpagina, Ukrainian Barbie Doll, Valeria Lukyanova, valeriya lukyanova, Venus Palermo