NBA punished Jason Kidd for the second time in his first month as a coach of Brooklyn Nets. He was fined $50K for spilling drink to delay game.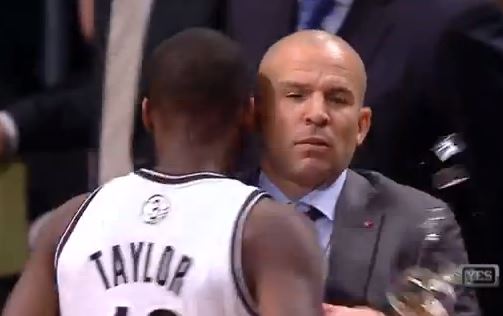 Kidd bumped into Nets reserve Tyshawn Taylor with 8.3 seconds left in the 4th quarter of a game against Lakers on Wednesday. A video showed Kidd telling Taylor to "hit me" as the guard walked toward him. The incident allowed the Nets to make another game plan, who were out of timeouts.
Kidd denied any intent after the game, joking that he had "sweaty palms" and was "never good with the ball."
"In the heat of the battle you're trying to get guys in and out of the game, and the (drink) fell out of my hand," Kidd.
At the end, Nets fall to Lakers with the score 99-94.
Watch the video: Jason Kidd Spills His Soda "hit me"

Video Credit:YouTube/NBAshowtimeHD7
Comments
comments
Tags: Brooklyn Net, Jason Kidd, Jason Kidd spills soda, Jason Kidd spills soda video, Kidd hit me video, NBA, Tyshawn Taylor