Recently, Harvard University and the Massachusetts Institute of Technology announced that they will be offering free online courses in a joint project. The project aimed to attract millions of online learners all over the world.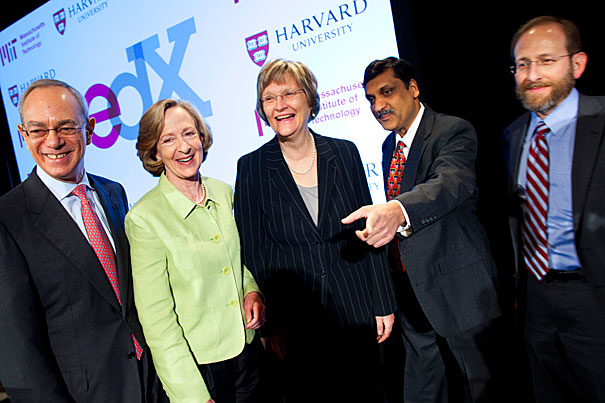 (from L-R) MIT Provost L. Rafael Reif , MIT President Susan Hockfield, Harvard President Drew Faust, MIT's Anant Agarwal, and Harvard Provost Alan Garber.
Image Credit: Stephanie Mitchell/Harvard Staff Photographer
edX is a joint partnership between MIT and Harvard University to offer online learning to millions of learners around the world. edX is equally owned and funded by Harvard and MIT. The first set of courses will be announced soon and will begin in the Fall 2012.
"Anyone with an Internet connection anywhere in the world can have access," Harvard President Drew Faust said.
Faculty at Harvard and MIT developed variety of courses which will be available online through the new $60 million partnership, known as "edX."
Anant Agarwal, serves as the edX first president, who is also MIT's Director of the Computer Science and Artificial Intelligence Laboratory, and Dean Michael D. Smith, Harvard's Faculty of Arts and Sciences leads faculty in developing courses.
According to MIT, Web-based courses will be created, featuring discussion forums, short videos, and laboratory simulations under the supervision of its professors and teaching assistants.
"This is about giving our students the best education possible. At the same time, once we have the content online, we might as well share it with the world.'' MIT Provost Rafael Reif said
Online Universities: Watch the edX Press Conference
Video Credit: ustream.tv
For additional information regarding edX you may visit edxonline.org or email the following:
info@edxonline.org – for general inquiries
university@edxonline.org – for university interested in discussing edX
Comments
comments
Tags: accredited online universities, edX, edX Press Conference, free online courses, Harvard and MIT joint project, Harvard University, MIT, online learning, Online Universities, Online University, top online university