The partial lunar eclipse on June 4, 2012 will be partly visible from western United States and Canada while people in Hawaii, New Zealand, and central and eastern Australia will be able to follow the whole eclipse.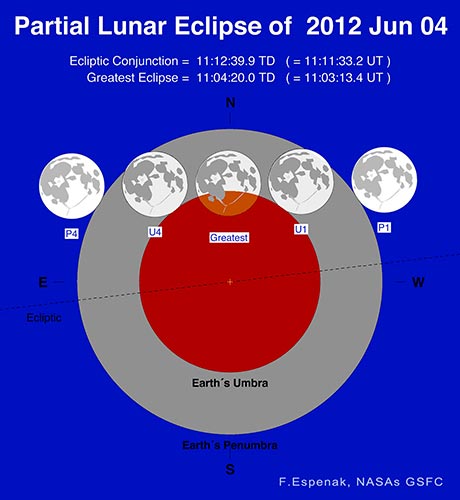 Partial Lunar Eclipse of 2012 Jun 04
Image Credit: eclipse.gsfc.nasa.gov
This eclipse will be completely visible over Australia, rising over eastern Asia and setting over western North America. To catch the entire eclipse, you must be located in the Pacific Ocean or in eastern Australia.
There will be two lunar eclipses in 2012 – a partial eclipse on June 4 and a very subtle penumbral eclipse on November 28, 2012. At maximum eclipse, approximately one-third of the moon's face will be covered by Earth's dark umbral shadow.
June Lunar Eclipse
Video Credit: space.com
Viewing times of Partial Lunar Eclipse for the United States are as follows:
[times are according to that local area]
    Albany, NY – Partial Eclipse begins at 5 am [Visible], Maximum Partial Eclipse at 6:03 am [Not Visible]
    Atlanta, GA – Partial Eclipse begins at 5 am [Visible], Maximum Partial Eclipse at 6:03 am [Not Visble]
    Austin, TX – Partial Eclipse begins at 4 am [Visible], Maximum Partial Eclipse at 5:05 am [Visible], Partial Eclipse ends at 6:06 am [Not Visible]
    Baltimore, MD –  Partial Eclipse begins at 4 am [Visible], Maximum Partial Eclipse at 5:05 am [Visible], Partial Eclipse ends at 6:03 am [Not Visible]
    Baton Rouge, LA –  Partial Eclipse begins at 4 am [Visible], Maximum Partial Eclipse at 5:05 am [Visible], Partial Eclipse ends at 6:06 am [Not Visible]
    Chicago, IL –  Partial Eclipse begins at 4 am [Visible], Maximum Partial Eclipse at 5:05 am [Not Visible]
    Cincinnati, OH –  Partial Eclipse begins at 5 am [Visible], Maximum Partial Eclipse at 6:03 am [Not Visible]
    Columbus OH –  Partial Eclipse begins at 5 am [Visible], Maximum Partial Eclipse at 6:03 am [Not Visible]
    Dallas, TX –  Partial Eclipse begins at 4 am [Visible], Maximum Partial Eclipse at 5:04am [Visible], Partial Eclipse ends at 6:06 am [Not Visible]
    Denver, CO –  Partial Eclipse begins at 3 am [Visible], Maximum Partial Eclipse at 4:03am [Visible], Partial Eclipse ends at 5:06 am [Not Visible]
    El Paso, TX –  Partial Eclipse begins at 3 am [Visible], Maximum Partial Eclipse at 4:03am [Visible], Partial Eclipse ends at 5:06 am [Not Visible]
    Honolulu, HI –  Partial Eclipse begins at 12 am [Visible], Maximum Partial Eclipse at 1:03am [Visible], Partial Eclipse ends at 2:06 am [Visible]
    Houston, TX –  Partial Eclipse begins at 4 am [Visible], Maximum Partial Eclipse at 5:04am [Visible], Partial Eclipse ends at 6:06 am [Not Visible]
    Los Angeles, CA –  Partial Eclipse begins at 2 am [Visible], Maximum Partial Eclipse at 3:03am [Visible], Partial Eclipse ends at 4:06 am [Visible]
    Louisville, KY –  Partial Eclipse begins at 5 am [Visible], Maximum Partial Eclipse at 6:03 am [Not Visible]
    Memphis, TN –  Partial Eclipse begins at 4 am [Visible], Maximum Partial Eclipse at 5:05 am [Not Visible]
    Miami, FL –  Partial Eclipse begins at 5 am [Visible], Maximum Partial Eclipse at 6:03 am [Not Visible]
    Milwaukee, WI –  Partial Eclipse begins at 4 am [Visible], Maximum Partial Eclipse at 5:05 am [Not Visible]
    Minnieapolis, MN –  Partial Eclipse begins at 4 am [Visible], Maximum Partial Eclipse at 5:05 am [Not Visible]
    New Orleans, LA –  Partial Eclipse begins at 4 am [Visible], Maximum Partial Eclipse at 5:05 am [Not Visible]
    Phoenix, AZ –  Partial Eclipse begins at 3 am [Visible], Maximum Partial Eclipse at 4:03am [Visible], Partial Eclipse ends at 5:06 am [Visible]
    Portland, OR –  Partial Eclipse begins at 2 am [Visible], Maximum Partial Eclipse at 3:03am [Visible], Partial Eclipse ends at 4:06 am [Visible]
    Sacremento, CA –  Partial Eclipse begins at 2 am [Visible], Maximum Partial Eclipse at 3:03am [Visible], Partial Eclipse ends at 4:06 am [Visible]
    St. Louis, MO –  Partial Eclipse begins at 4 am [Visible], Maximum Partial Eclipse at 5:05 am [Not Visible]
    Salt Lake City, UT –  Partial Eclipse begins at 3 am [Visible], Maximum Partial Eclipse at 4:03am [Visible], Partial Eclipse ends at 5:06 am [Not Visible]
    San Diego, CA –  Partial Eclipse begins at 2 am [Visible], Maximum Partial Eclipse at 3:03am [Visible], Partial Eclipse ends at 4:06 am [Visible]
    San Francisco, CA –  Partial Eclipse begins at 2 am [Visible], Maximum Partial Eclipse at 3:03am [Visible], Partial Eclipse ends at 4:06 am [Visible]
Comments
comments
Tags: Earth's dark umbral shadow, June Lunar Eclipse, lunar eclipse, Partial Lunar Eclipse 2012, Partial Lunar Eclipse of June 2012, Partial Lunar Eclipse on June 4, penumbral, penumbral eclipse, Viewing times of Partial Lunar Eclipse