A giant squid was found in South Whales, Australia by Al McGlashan, a fishing columnist for the Daily Telegraph.
The giant squid has become a mystery for the scientist. Aside from being the largest invertebrates or being deep-sea gigantism which means that deep-sea-dwelling animals can display a larger size than their shallow-water counterparts, it is hard for the scientist to make a thorough study about them. Lately, however, the fortunes of scientists studying these elusive creatures have begun to turn.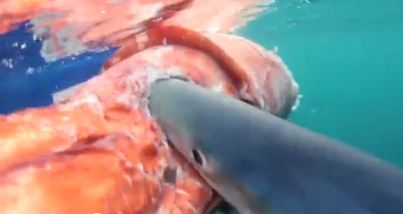 A rare giant squid being eaten by an 8-foot shark
Screenshot: YouTube
The giant squid filmed in Australia is measured about 3m long, even though most of its tentacles are already beaten by its chief predators, sperm whales. "It must have died not that long before we found it because it didn't smell at all and its colours were still strong – most giant squid remains are smelly and rotten and just off-white by the time someone finds them," Mr McGlashan said.
According to the Australian Museum squid specialist Mandy Reid that giant squid could grow up to 13m and that the giant squid might wither encountered a sperm whale or had come to end its short life. "Most squid only live for a year, they grow extremely quickly, but there is also a chance that it has been attacked by a sperm whale," Dr Reid said.
Watch the video below:
Rare Giant Squid Spotted in Australia
VIdeo Credit:YouTube/almcglashan
Comments
comments
Tags: featured, giant squid, giant squid attacked by shark, giant squid australia, Giant squid found, Giant Squid Found Off Australian Coast, giant squid in Australia, giant squid photos, giant squid video