Ukrainian model Valeria Lukyanova, who has been dubbed a "living Barbie Doll", became an Internet sensation this week because of her doll-like features and her seemingly inhumane figure. From her porcelain skin to her large eyes to her concaved waist, Lukyanova's appearance shocked viewers around the world.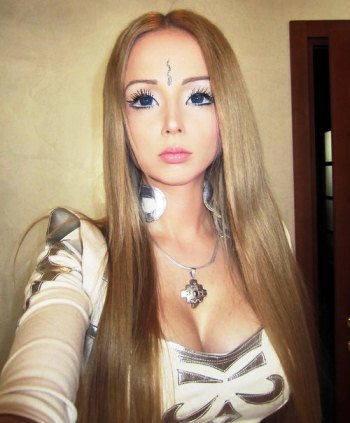 Valeria Lukyanova: The Real-Life Ukrainian Barbie Doll
Image Credit: Valeria Lukyanova Facebook Account
Horrified viewers have blasted the model over her Barbie looks. One commented: "She looks not only ugly, but ridiculous." Another wrote: "A woman with completely perfect features is a boring woman."
On Thursday, Valeria Lukyanova took to her official YouTube channel, Amatue, to respond to the media attention she has received in a post entitled, "Doll's appearance is not everything." Here is the full text of her excerpt. Bear in mind, English is most likely her second language.
"Unfortunately this is a mistake most people. They take someone else's opinion as the truth of the first instance," she said.
RELATED ARTICLES:
Video Credit: YouTube/Amatue
Comments
comments
Tags: real life ukrainian barbie doll, Russia, The Real-Life Ukrainian Barbie Doll, Ukraina Valeria Lukyanova, Ukrainian Barbie Doll, Valeria Lukyanova, valeria lukyanova before, valeriya lukyanova