Russian base jumper Valery Rozov made a new record in Himalayan Jump wearing only a wingsuit. It really a world record to reach the bottom of a 4 mile high summit of Shivling wearing only his jumper wingsuit. This is really another highlight to his career of extreme sports as base jumper.
Watch the video below of  Valery Rozov Russian Base jumper as he sets new world record with Himalayas jump
This is not really his first time to BASE jumping and wingsuit flying. The 47-year-old Russian's breathtaking feats, such as flying into an active volcano in Kamtschatka (2009) and jumping from Ulvetanna Peak in the Antarctic (2010), have made him famous the world over.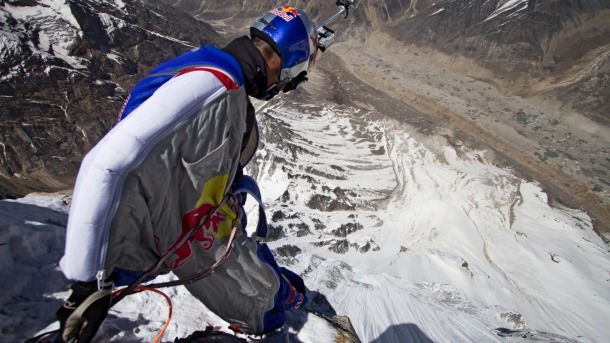 Image Credit: iktor Volodin, Alexander Ruchkin and Denis Klero | Red Bull Content Pool
Valery Rozov and his team (Alexander Ruchkin and Victor Volodin) took a 30 day expedition (including a six-day ascent) on the summit of Shivling in the Indian part of the Himalayas on May 25 at 13:30. It was then that Rozov found a perfect spot wherein he took off at 6420mt. Within 90 seconds, with a speed of 200 km/h, he landed 2200m further down the glazier. It was really a perfect way to go down a summit because the other expedition members took three whole days to complete the descent.
Daredevil Sets New World Record with Amazing Wingsuit Jump (Video)
Video Credit: YouTube/telegraphtv
Comments
comments
Tags: Amazing Wingsuit Jump, BASE jumping, Daredevil Sets New World Record, featured, new world record with Himalayas jump, Russian base jumper Valery Rozov, Valery Rozov Amazing Wingsuit Jump, Valery Rozov Jumps From Himalaya Peak, wingsuit flying